Step 1: Click "Sign Me Up" & Choose Your Plan

Step 2: After arriving at school, students get their own Expedient Laundry bag.

Step 3: Stuff your bag with laundry, and we bring it back clean the next day!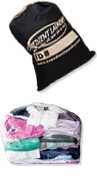 How It Works
Drop off the bag at Hall 16 between 4 & 6pm on Monday
Pick up clean & folded clothes the very next day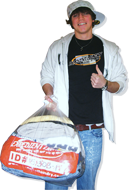 Sign Me Up!
Dear Parents,
Your son or daughter is going off to college. Between classes, meetings, and working; waiting for laundry doesn't fit into a student's schedule. Expedient is proud to provide a high-quality laundry service for your student.
Upon arrival on campus, your son or daughter will receive their own Expedient Laundry bag. We will accept your student's laundry bag each week on Monday from 4:00 - 6:00pm. The next day, laundry will be returned, clean & folded, with shirts on hangers!
We wish your student a pleasant transition into their college career.
- Sincerely, The Expedient Laundry Team
Feedback
Awesome company and A+++ service! My mom signed me up with these guys a year ago and it's made my life so much easier. I HATE doing laundry and these guys take that burden right off my shoulders. Never had any issues and always get my clothes back quickly and washed/dried/folded to perfection. Thanks!
- Nikki S, Student, 2018